Description
Denon RCD-M41 Overview

Denon's RCD-M41 HiFi CD Receive is a compact and powerful receiver that delivers high-quality sound and Bluetooth connectivity. Its new amplifier circuit delivers 2x30 W of power and includes a dedicated headphone amplifier section. The receiver also has an on/off Bluetooth switch for convenience.
Denon RCD-M41 Features
With a small, stylish form factor, the Denon RCD-M41 HiFi-CD Receiver fits in any room. Its dimensions are only 8.3" wide by 12.2" deep, making it extremely easy to move and store. Its new cosmetic design ensures that it will blend with any home decor and lifestyle.
The RCD-M41's improved circuitry means the sound is cleaner and more accurate. Denon engineers have reduced the amount of interference by using a simple, straight-circuit design. It also reduces the chance of signal distortion. These features result in an audio experience as close to the original recording as possible. 
Denon RCD-M41 Specifications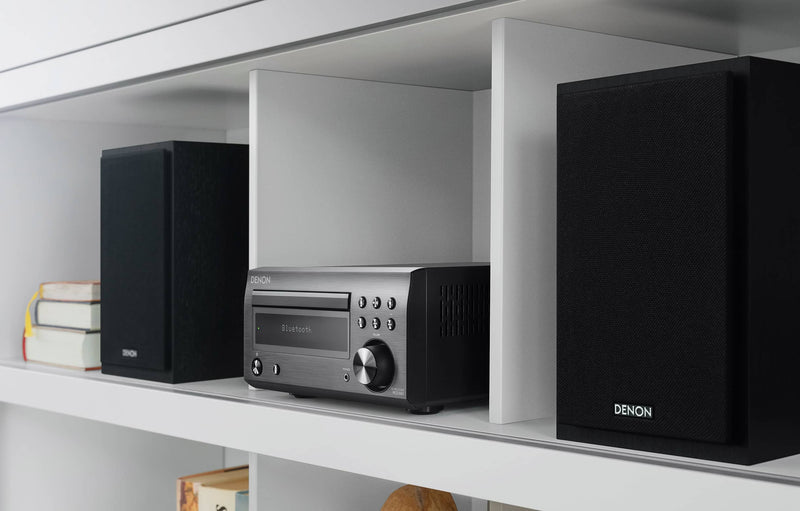 Features

High-Quality Power Output

2 X 30

CD Compatibility: CD / CD-R/RW / WMA / MP3

Yes / Yes / Yes / Yes

USB Audio (Front) / Made for iPod / Made for iPhone

No / Yes / Yes

Tone Control: Bass / Treble / Balance

Yes / Yes / Yes

Clock

Yes

Sleep Timer

Yes

Programmable Timer: Once / Daily

Yes / Yes

Inputs Outputs

Analog In/out

1/0

Digital Optical In / Out

2 / No

iPod / iPhone compatible USB input

No

Subwoofer PreOut

Yes

Speaker Terminal: Click Fit / Screw

No / Yes

Headphone Out

Yes

Specifications

Power Output (6 ohms, 1kHz)

30 W

Number of channels

2

Freq. Response (Analog In)

20 Hz-20 kHz

Frequency Range FM

87.5 Mhz-107.9 MHz

Frequency Range AM

520 kHz-1710 kHz

General

Available colors: Black

Yes

Remote Control

RC-1214

Power Consumption in W

70

Standby Consumption in W

0.3

Maximum Dimensions (W x D x H) in inches

8.27 x 12.13 x 4.53

Weight in LBS/kg

8.82 / 4 kg
Shipping Related Questions
It depends on where you are and what you are ordering. All types of speakers will take minimum 4-5 business days as per the delivery location. Products that are not magnetic can be delivered faster if customer agrees to bear air-freight cost.
At AV Kart, we work with reliable logistic partners to handle the deliveries of your expensive Hi-Fi products. 99% of all our deliveries happen smoothly across PAN India. However, at the times of unfortunate events when the delivered item has incurred any sort of damage, AV Kart gaurantees immediate replacement for the same without any questions asked. 
Please note that if the transit damage is limited to the packaging e.g. tampered boxes or broken thermocols then the product is not eligible for replacement until and unless there's any technical issue with it internally.
Product Related Questions
At AV Kart, we have a very limited inventory of Hi-Fi brands and that's becayse we have authorised dealerships for all the brands and products you see on our website. Every product is sourced from their respective official Indian distributors. Hence, whatever products you are going to order from us will be certainly 100% original.  We always urge our customers to request proof of dealership from any online sellers before buying anything online to ensure that you get the due warranties and service support.
Return and replacement both the options are not available in standard scenarios. However, If only the product you have received is faulty and the replacement is taking more than 3-4 weeks, we will accept the return and refund 100% amount. If the waiting period for replacement is within 4 weeks then we will try to supply our customers a standby product until the original one gets replaced.
Why Choose AV Kart?
There are many online stores nowadays who are selling Hi-Fi equipment. Some of them even displays lucrative disounts but here's how AV Kart is different from them - 
Authorization - We are authorised dealers of each and every brand listed on our store. You will get proper service support and warranty on all the purchased products. You can always ask us for proof of dealerships for all of the listed brands.
Expertise - We are among the only few online stores having years of experience with Hi-Fi equipment. You can ask us anything about your Hi-Fi home theater setup and you will get the right answer then and there. We have years of hands on experience working with top high-fidelity AV brands.
On-Site Installation - We offer on-site installation in all the metro cities within 48 hours with the help of our channel partners which are spread across the country. From a single projector to complete home cinema setup, our team can service you at your doorstep. 
After Sales Support - The only issue with Hi-Fi equipment is that you will not find local service centers in every city. Most of the brands have their service centers only in the metro cities and hence it becomes difficult for the customers who are living far away places to claim warranty. At AV Kart, we solve this problem by arranging pikcup and drop facility from the nearest service center with the help of our logistic partners.
Telephonic Support - In the instances when you buy any product and install it yourself but facing troubles with using it? You can book a call/video call with us to understand the operations of your new equipment.